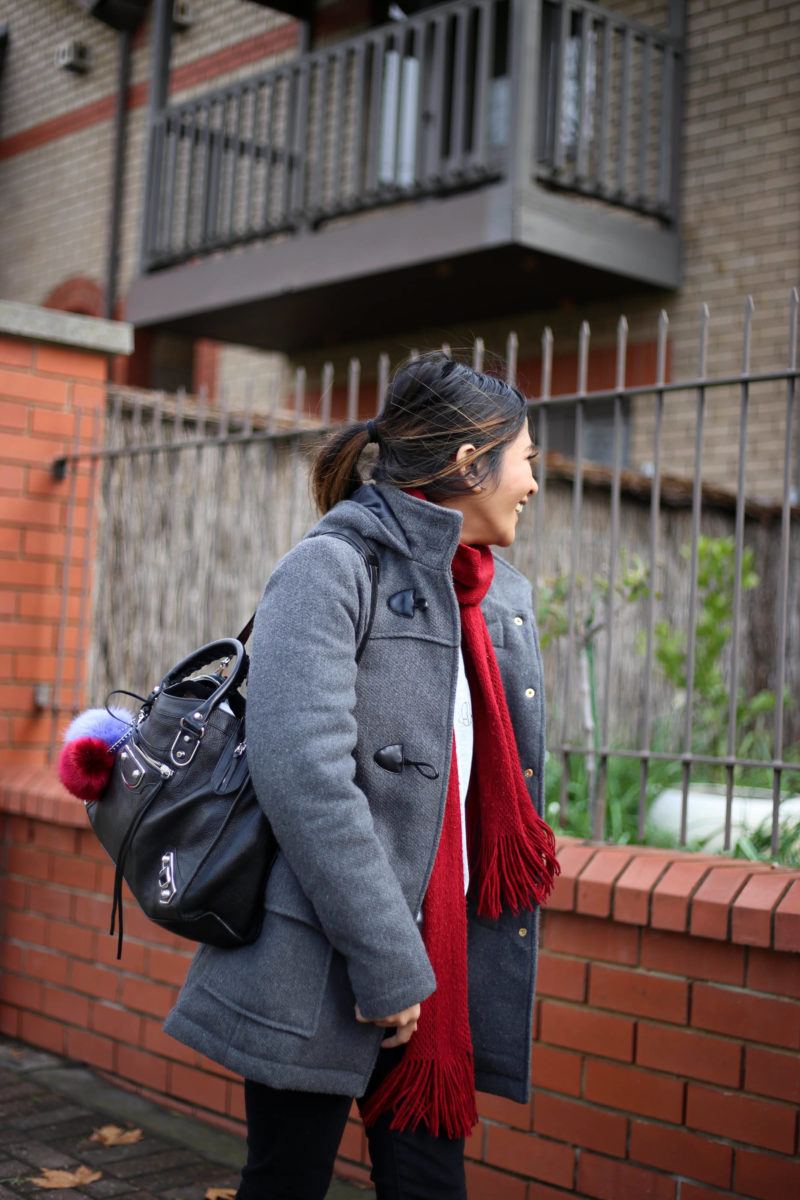 Hello, hello! It's been a while hasnt it? (Atleast for my blog!) I know this is more than 1 week too late, but I still wanted to complete my styling series so here is the part 2.
This look is quite a simple and casual one, just for those girls who aren't interested in anything too fussy, and you just want a casual look thats comfy and warm. Here I've teamed up an everyday pair of ankle skinny jeans with my favourite comfy sweater. To make it a bit more interesting I've snuck a button up shirt underneath and wore some slingback loafers. I topped the look off with my oversized but very warm duffle coat, and believe me even though this was a wet windy day, I was snug as a bug in a rug!
Personal Update!

Now while I had you guys, just thought I would update you with some plans I have for this blog and youtube channel, and personal updates regarding my life
I'm crazy frantic with my upcoming exam! I am currently undertaking a diploma and I have exams at the end of the year (1 month) Typical June fashion, I've left it a little bit late, and I now have a few 100 lectures I've got to go through in the next 1 month – needless to say I'm going be busy!
I'm doing Vlogtober! If you follow me on my youtube channel you may have seen that I'm doing vlogtober. Unfortunately due to my busy schedule this month the uploads have been a little bit late, but believe me I'm frantically trying to edit the videos and upload any spare minute I have!
I got a haircut! You would know this if you follow my snapchat or instagram, but I've recently got myself a hair cut including bangs! Now this does mean that it dates all my videos and photos, but I have decided to still continue uploading them to my blog because 1) they're awesome pictures and 2) does it really matter? So this is just a forewarning that my photos on the blog will not feature my new hair, but I hope it doesn't bother you guys too much, and you still enjoy them none the less!
So thats it for now — I'll be back with my regularly scheduled blog posts commencing tuesday so stay tuned! xoxo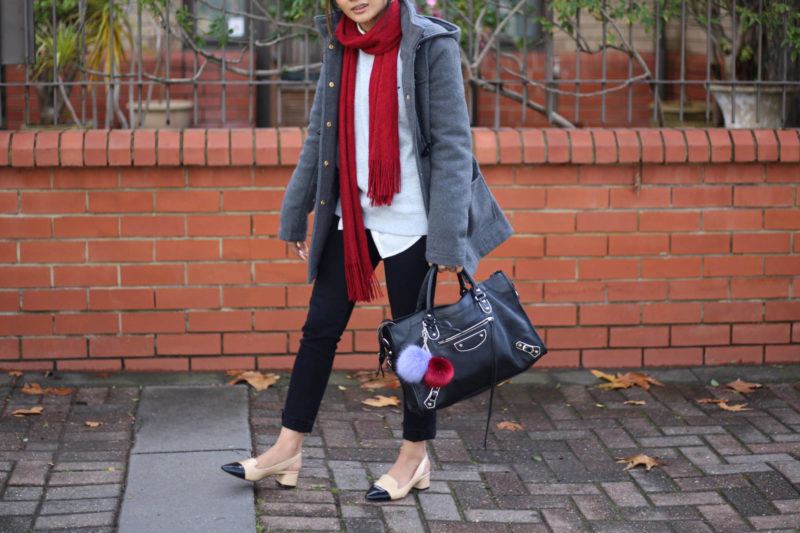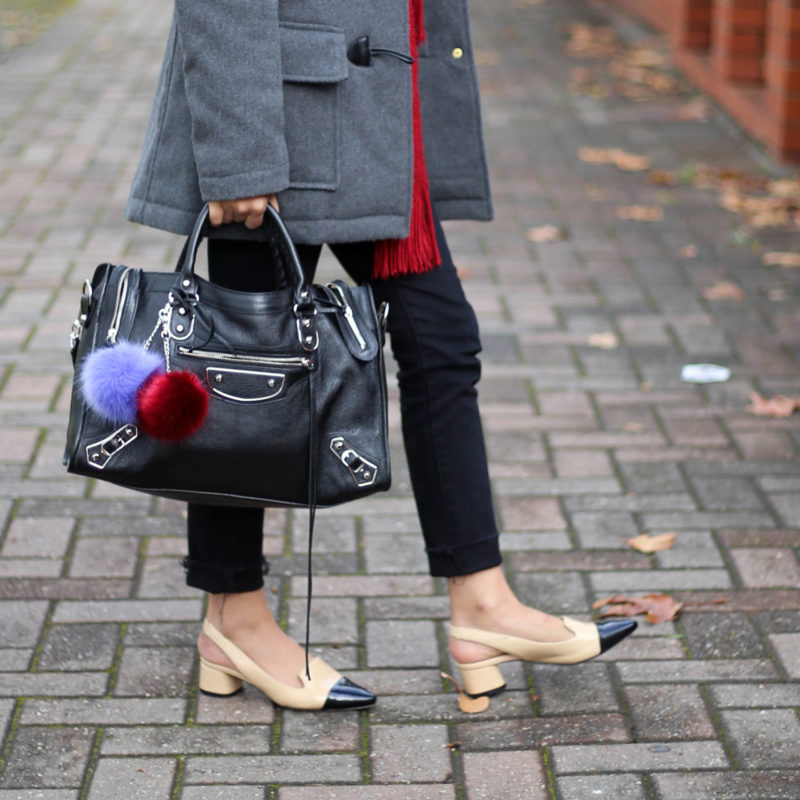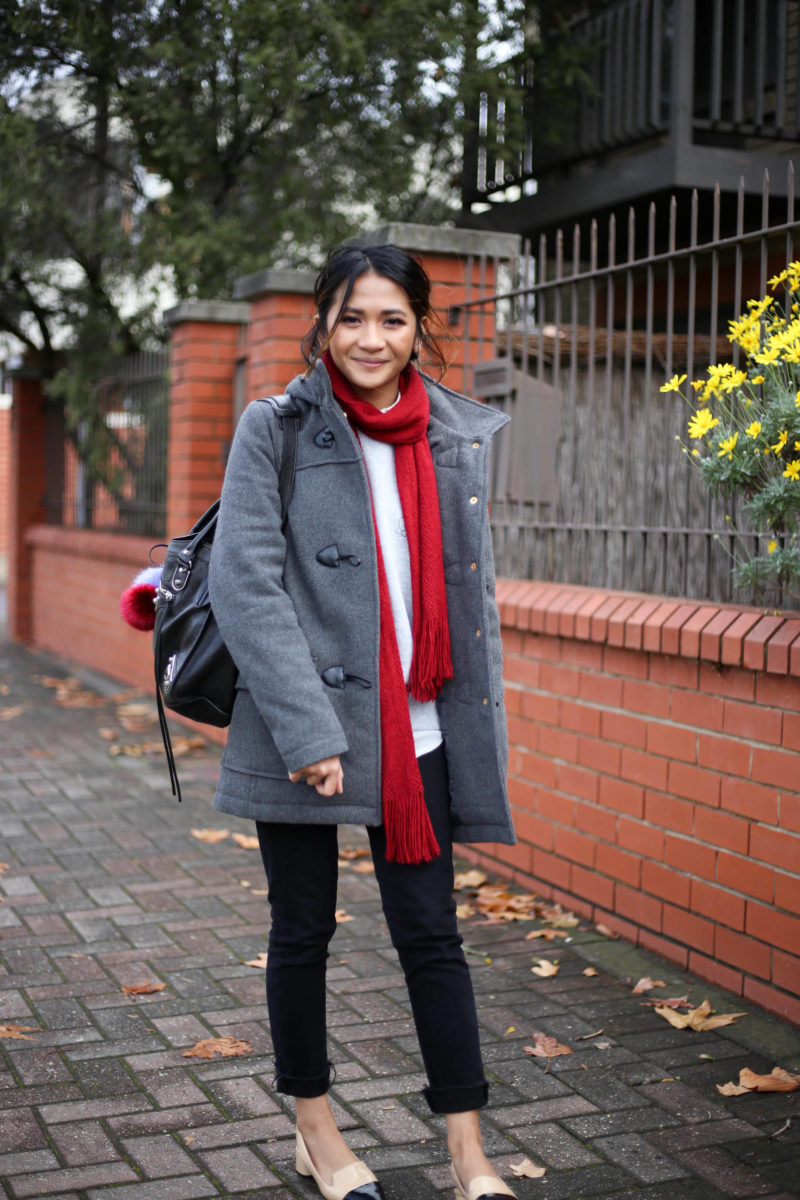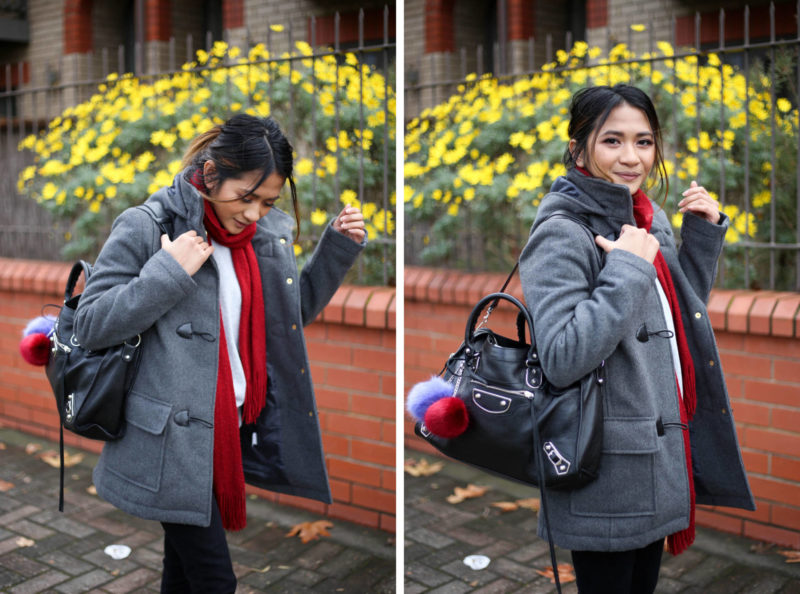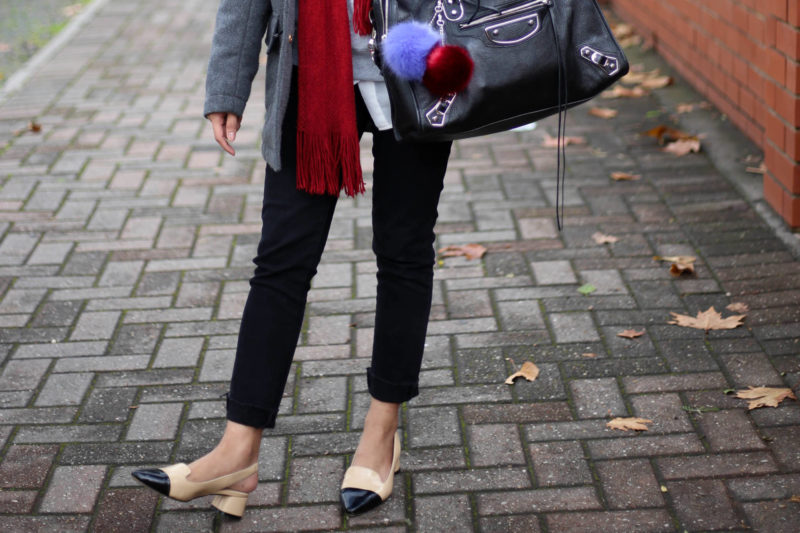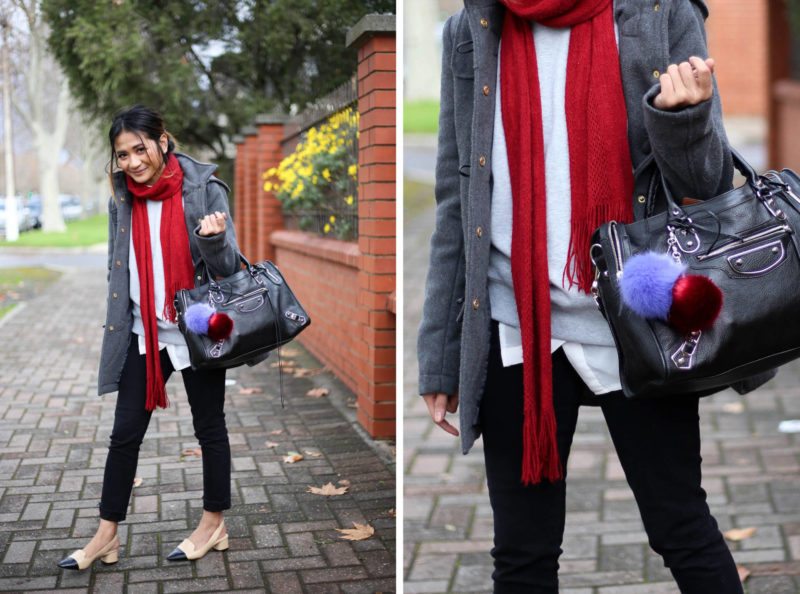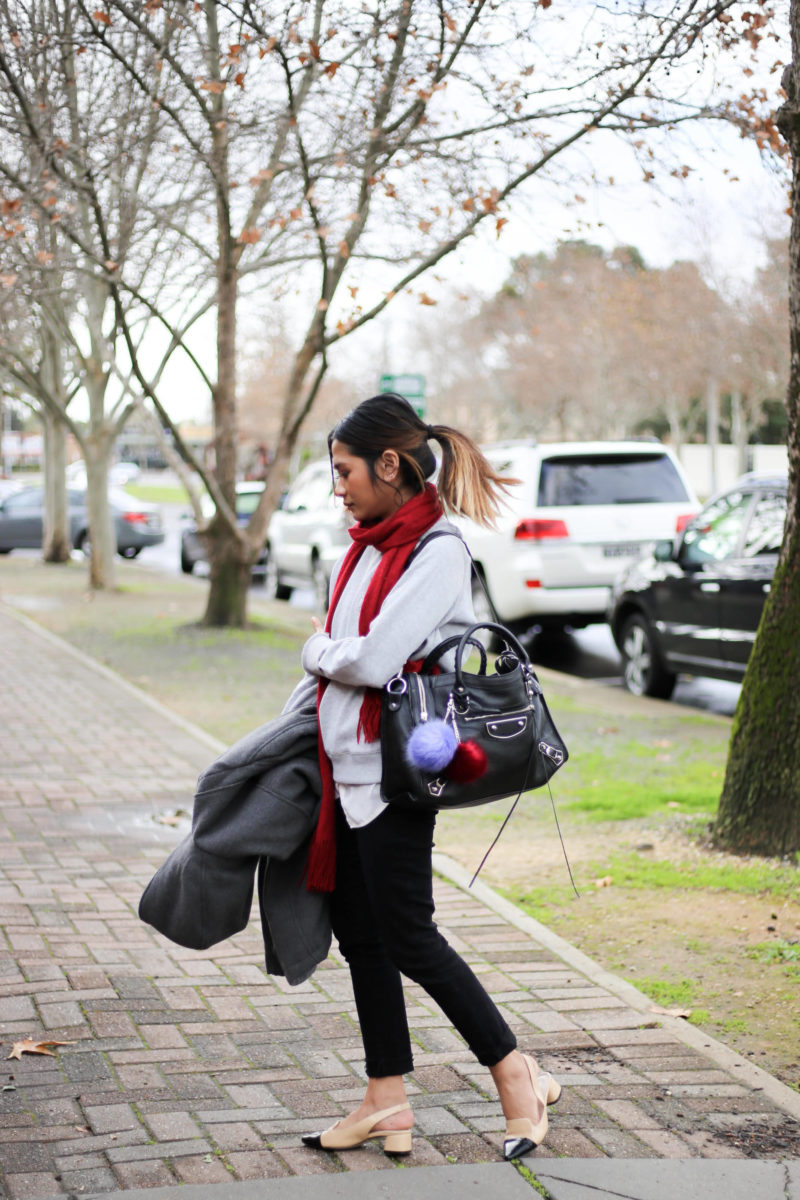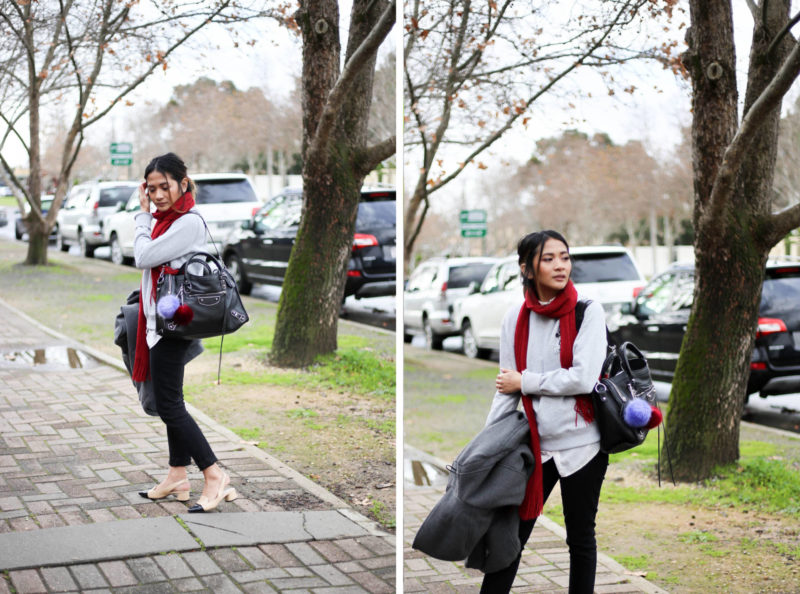 Outfit Details:
| DUFFLE COAT: MISSHOP | MICKEY SWEATSHIRT: COTTON ON | BUTTON UP SHIRT: H&M | BLACK SKINNY JEANS: COTTON ON | SLINGBACK LOAFERS: NEXT | RED SCARF: TARGET | BAG: BALENCIAGA CITY METALLIC EDGE |
SHOP SIMILAR:
If you guys haven't seen it yet, check out the first week of VLOGTOBER!