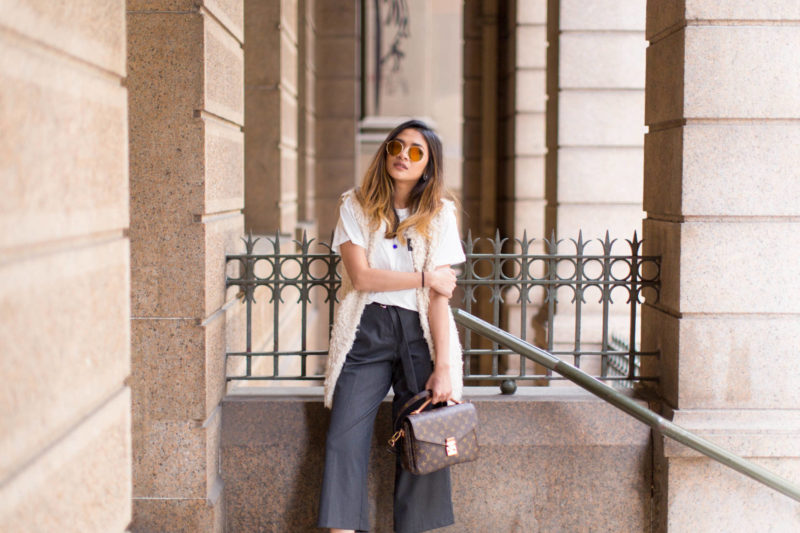 My blog posts are all over the place lately, and I'm so sorry about that. I'm trying to stick to my schedule of posting every Monday + Friday, but thats clearly gone out the window. Partly to blame is the fact that I'm currently trying to study for an upcoming exam, and whilst I have a few days of study leave I'm trying to cram up to 10 lectures a day… not really possible.
So I have been meaning to post this look for weekssss now,  and yes, thats exactly how far advanced I am with photos, and if you follow me on instagram you would have already seen sneak previews of this look.
I love how this look/shoot turned out, and I honestly had to painstakingly go through literally hundreds of photos! I've tried to narrow it as much as  I can, but forgive me if it's still an overwhelming amount of photos of me! ahaha.
In this look I'm wearing one of my favourite layering pieces of all time – my shaggy/teddy/rug cream gillet or vest. I purchased this little number from H&M many moons ago, and I love layering it over pants, over skirts, dresses – and I ever layer it over a cardigan to turn it into a coat! In this outfit I've chosen to my (one of my many) pair of culottes from topshop, and to keep things simple have just worn a plain white shirt underneath. My reflective sunglasses from cotton on give this outfit a nice pop of interest and complements the gold accent from my LV bag nicely. Of course since everything was pretty neutral, I chose an LV monogram print bag as it would pop really nicely!
And on that note, I thought I would include a little review here about the Pochette Metis as some of my viewers were curious as to why I did not include it as part of my recommended 1st designer handbag.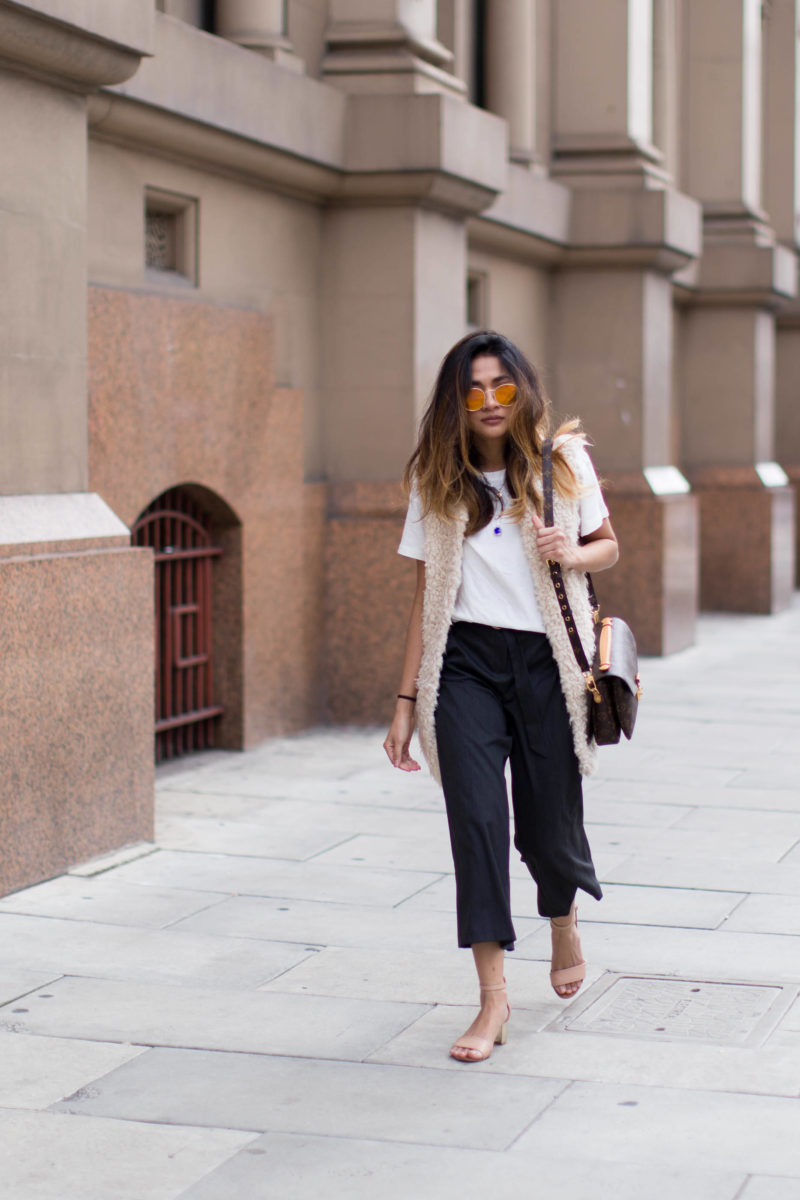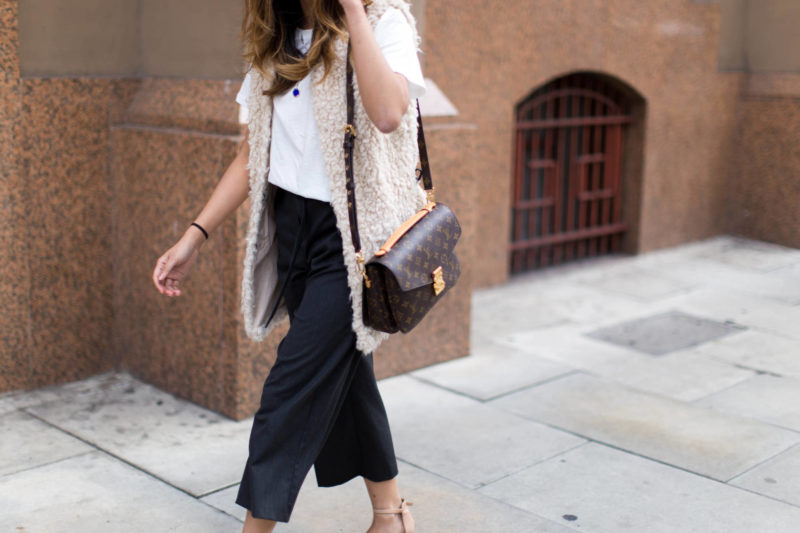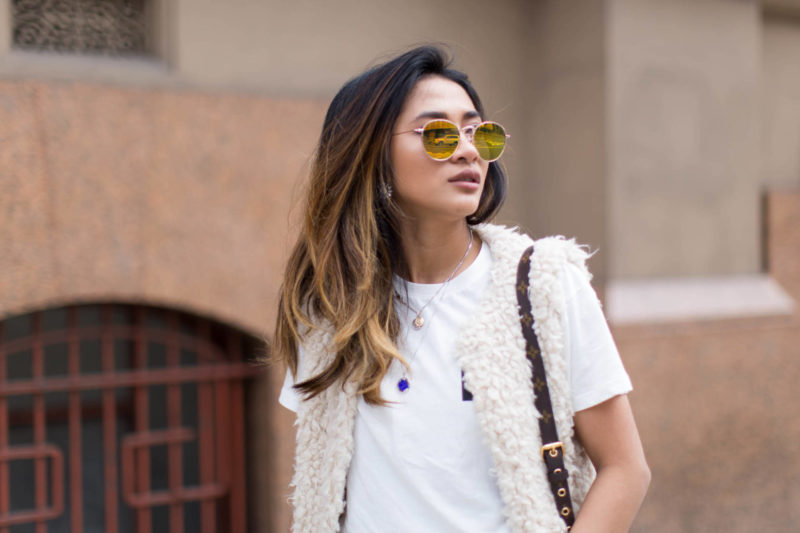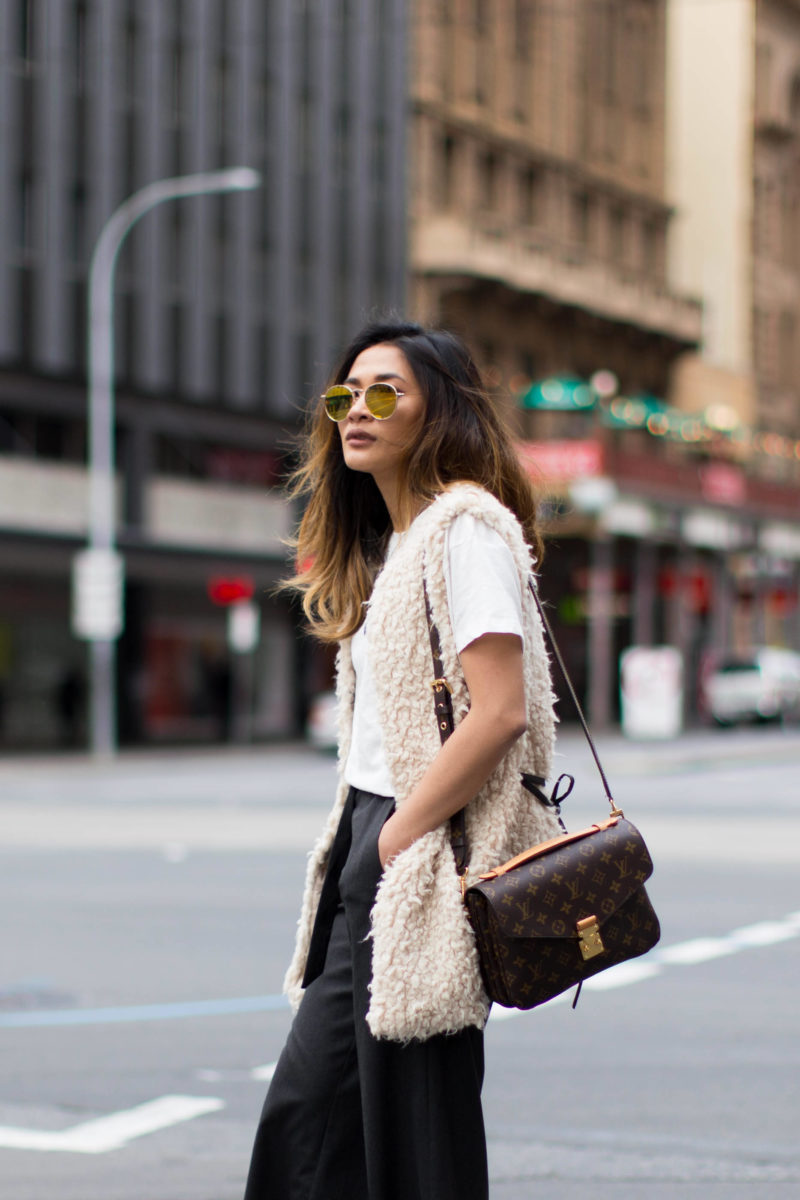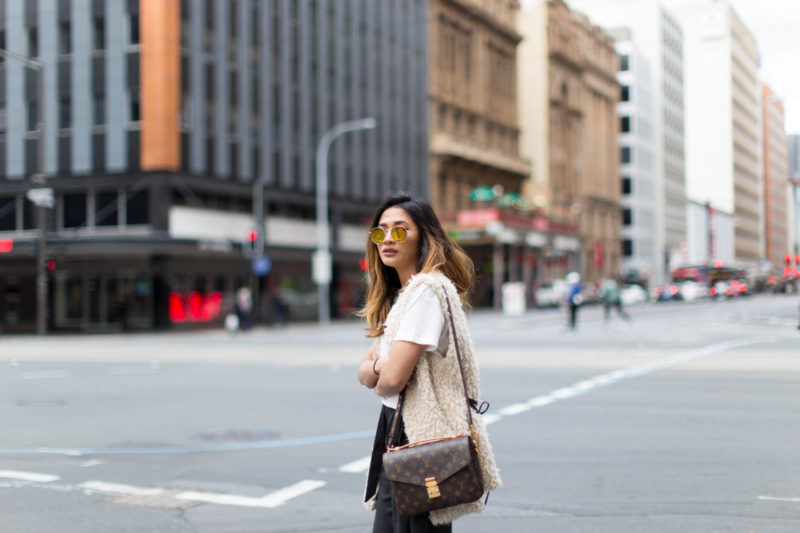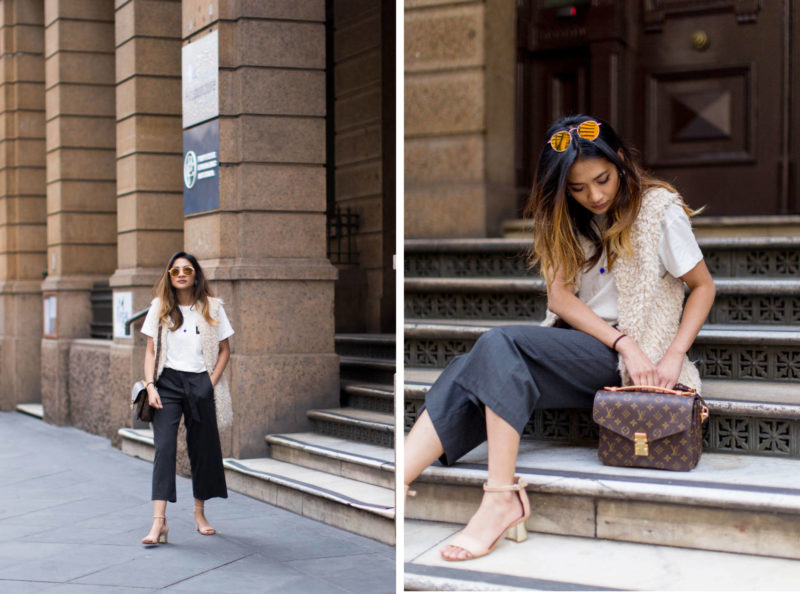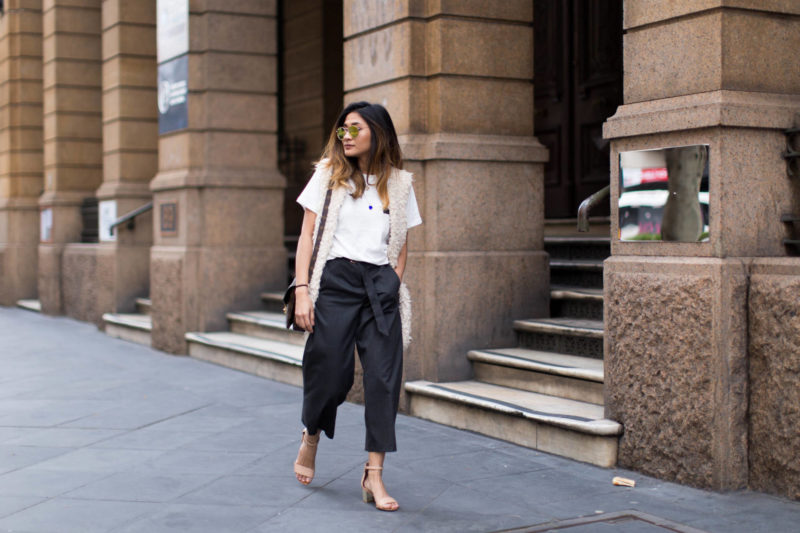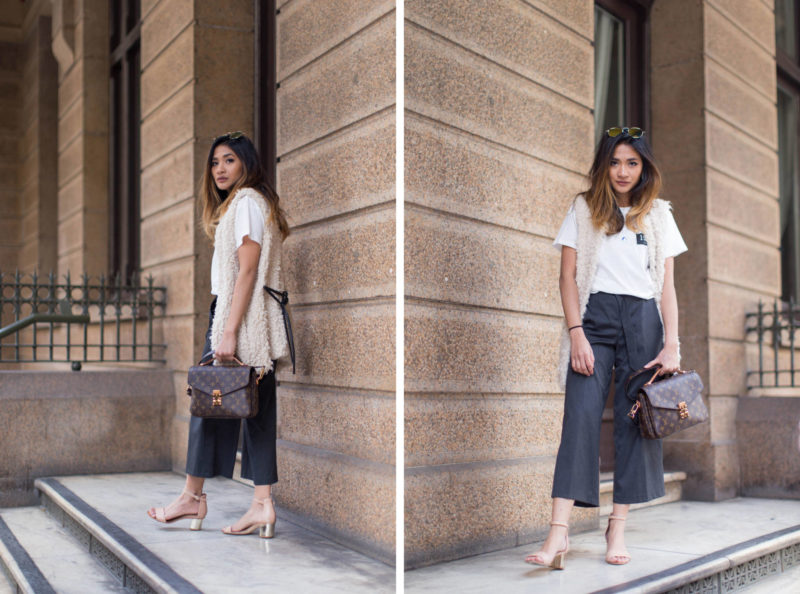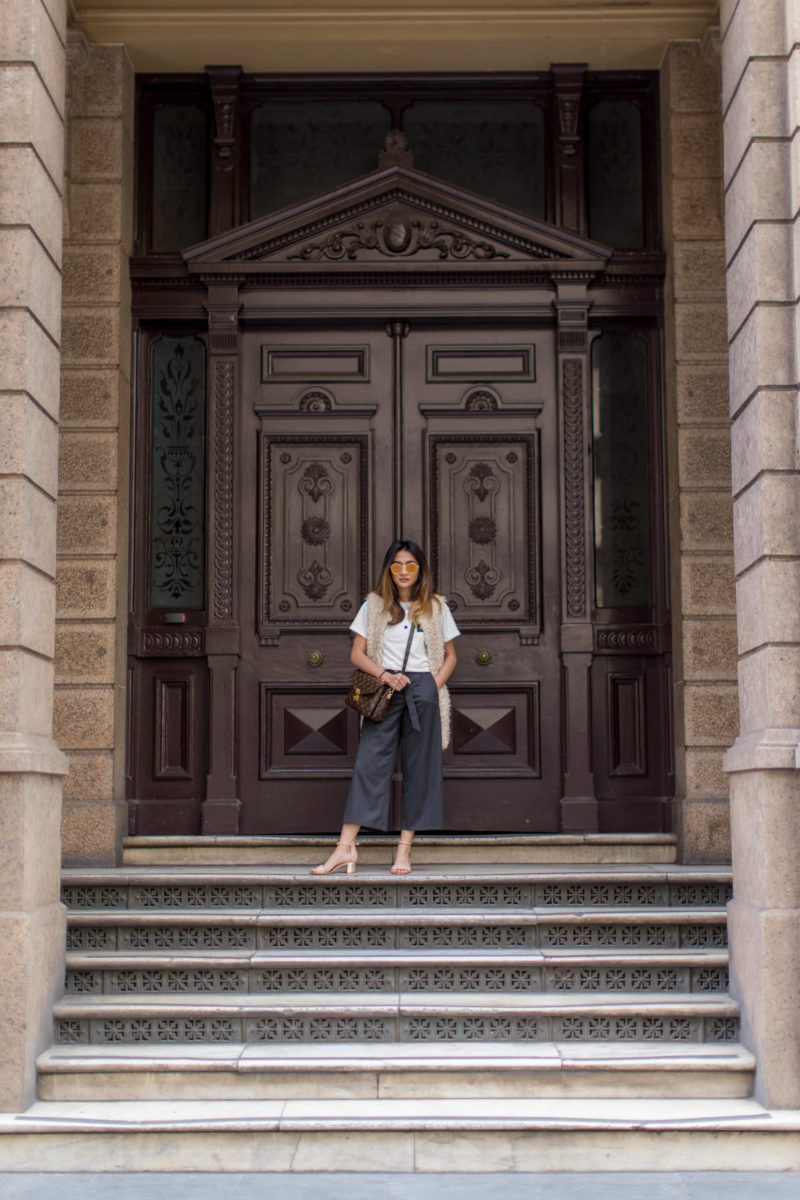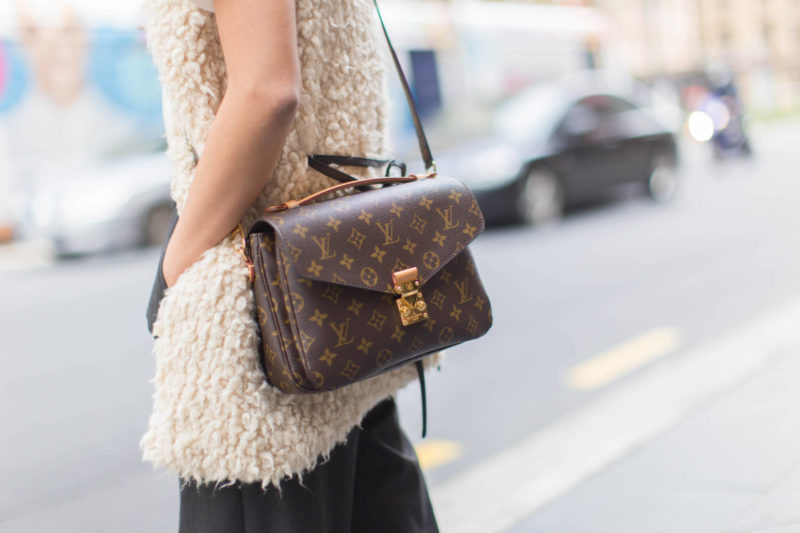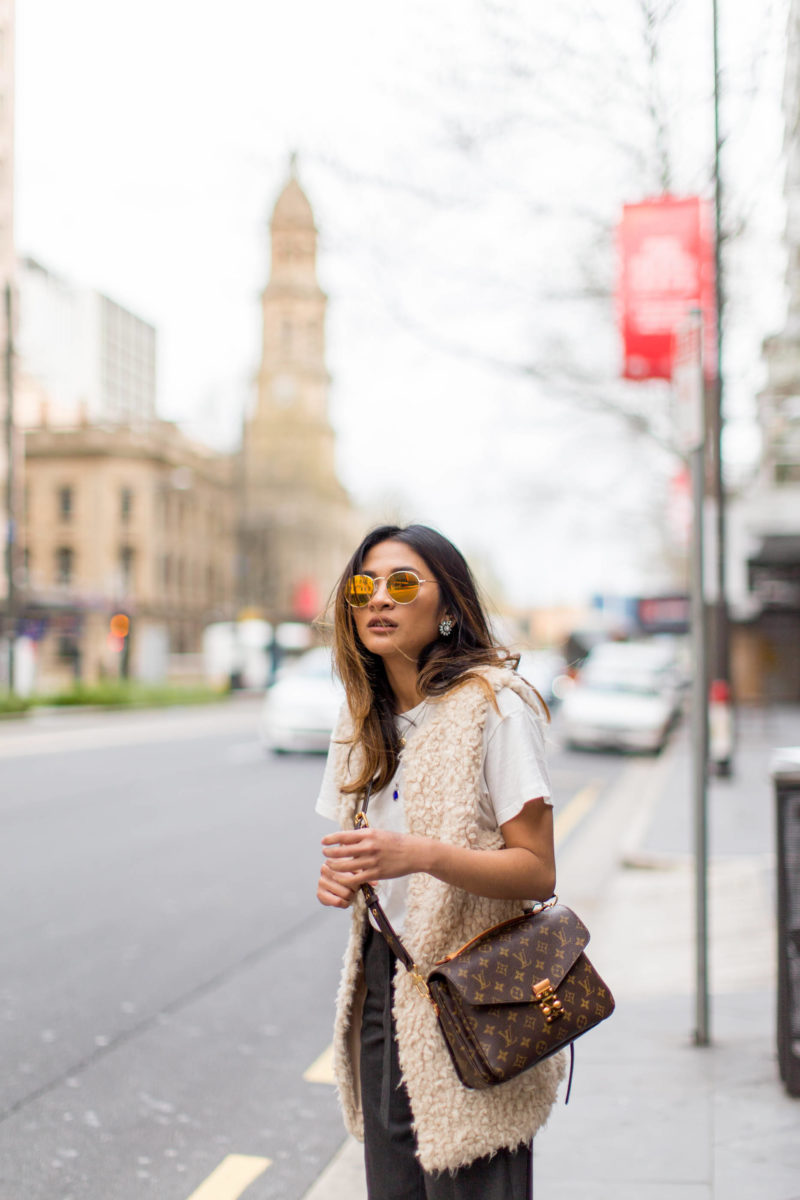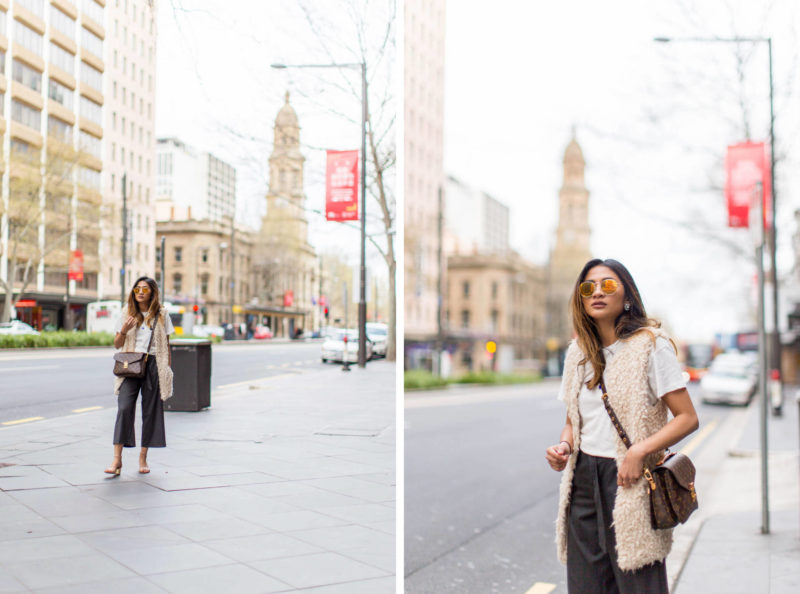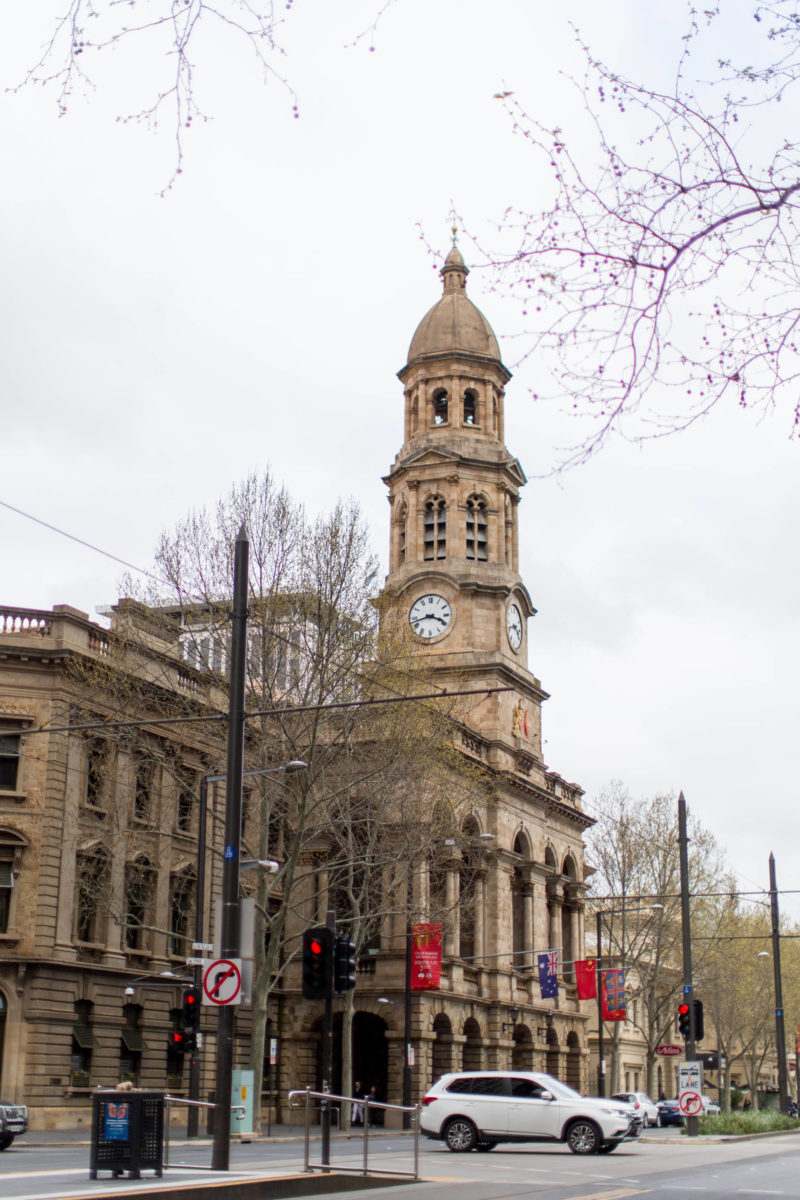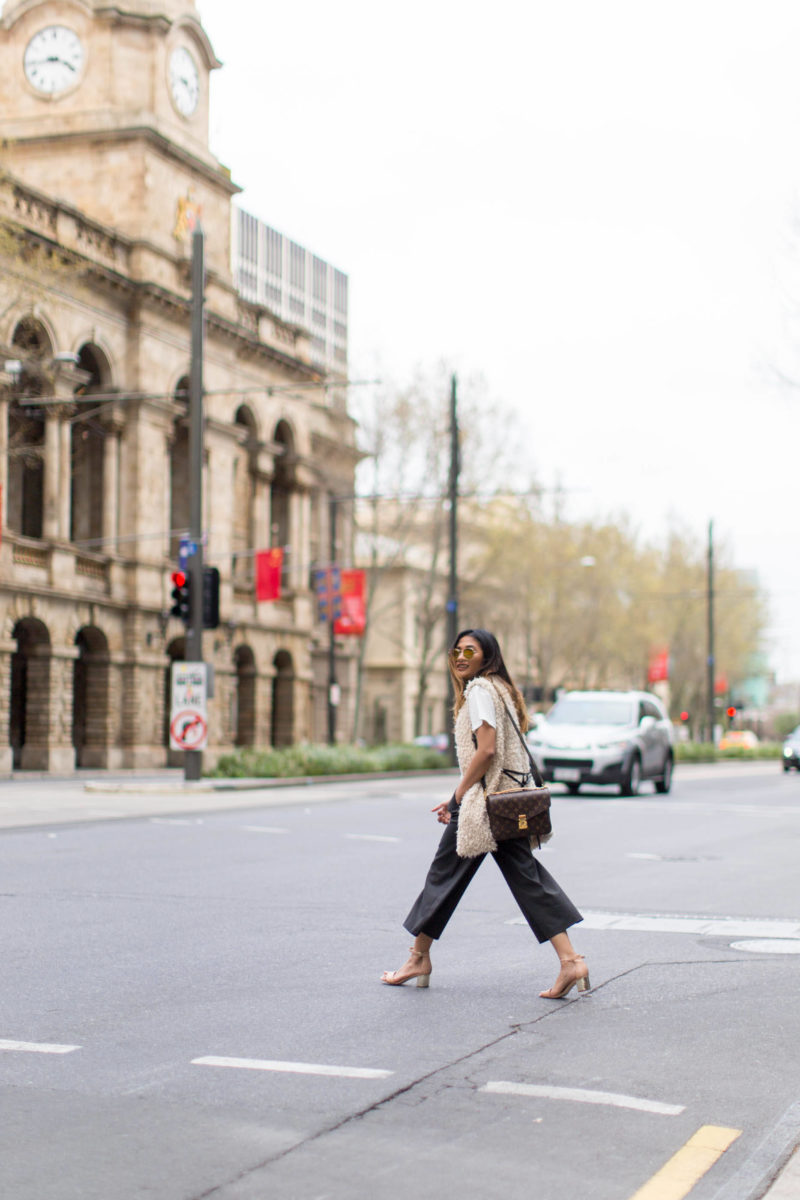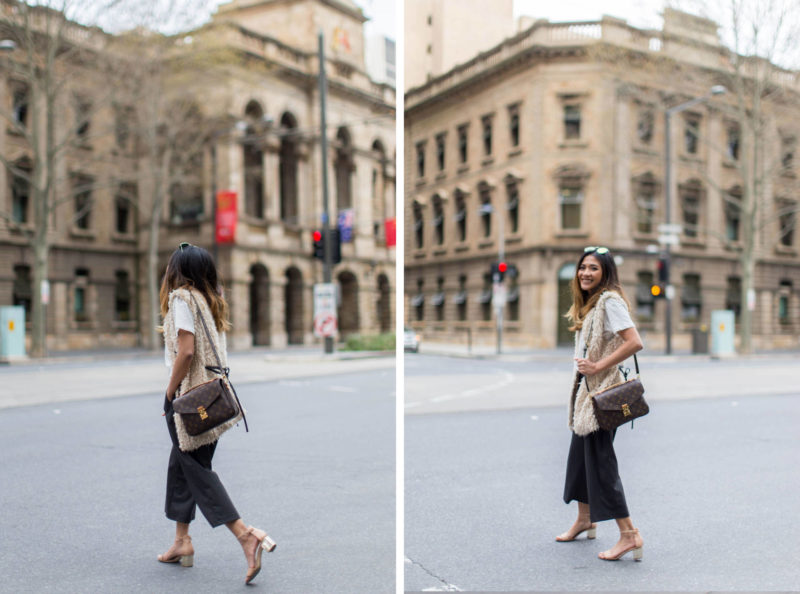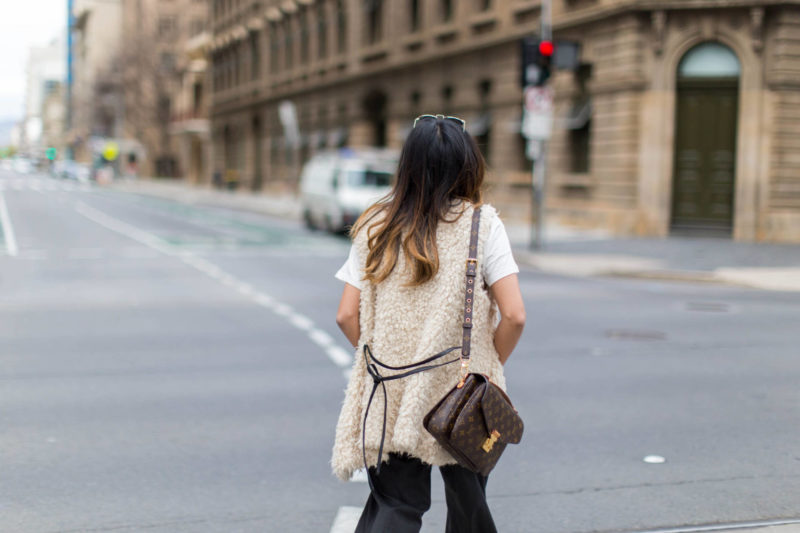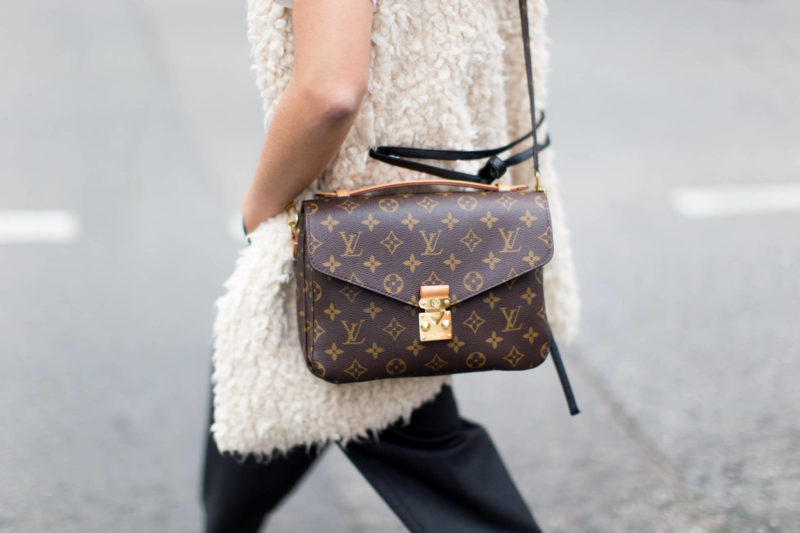 The Louis Vuitton Pochette Metis
So I dont want to ramble on too much about this bag – if you want a separate review video on wear & tear and thoughts let me know – but as I've said some people where curious why I did not feature this on my recent video. The reason being folks is when I think about my first designer handbag (or atleast in my case), I think about a forever bag – in style, in function, in durability and in price point. I want it to be a all-rounder. Now I did not chose to include the Pochette Metis mainly because of all of the problems associated with this bag in the early stages, and also the trendy nature of the bag. I don't see it as a classic piece just yet, and there have been enough problems brought up about this bag that I refrain from recommending it as a first designer bag. That isn't to say that every PM has inherent construction problems, because if you look after your bag well, it shouldn't! But if I had this bag as my first item and I ran into glazing problems or cracking problems right off the bat – I would just not be happy at all!
Now that isn't to say I wouldn't recommend this bag at all – because I do! Its a beautiful bag that offers a lot of functionality and versatility, and it's easily one of my favourite bags from Louis Vuitton. But for reasons I mentioned above, I refrained from recommending it as a first designer piece – and I stress on the word first – because to me, that first bag shoulde the be-all and end-all… and I just don't feel like this bag is quite there!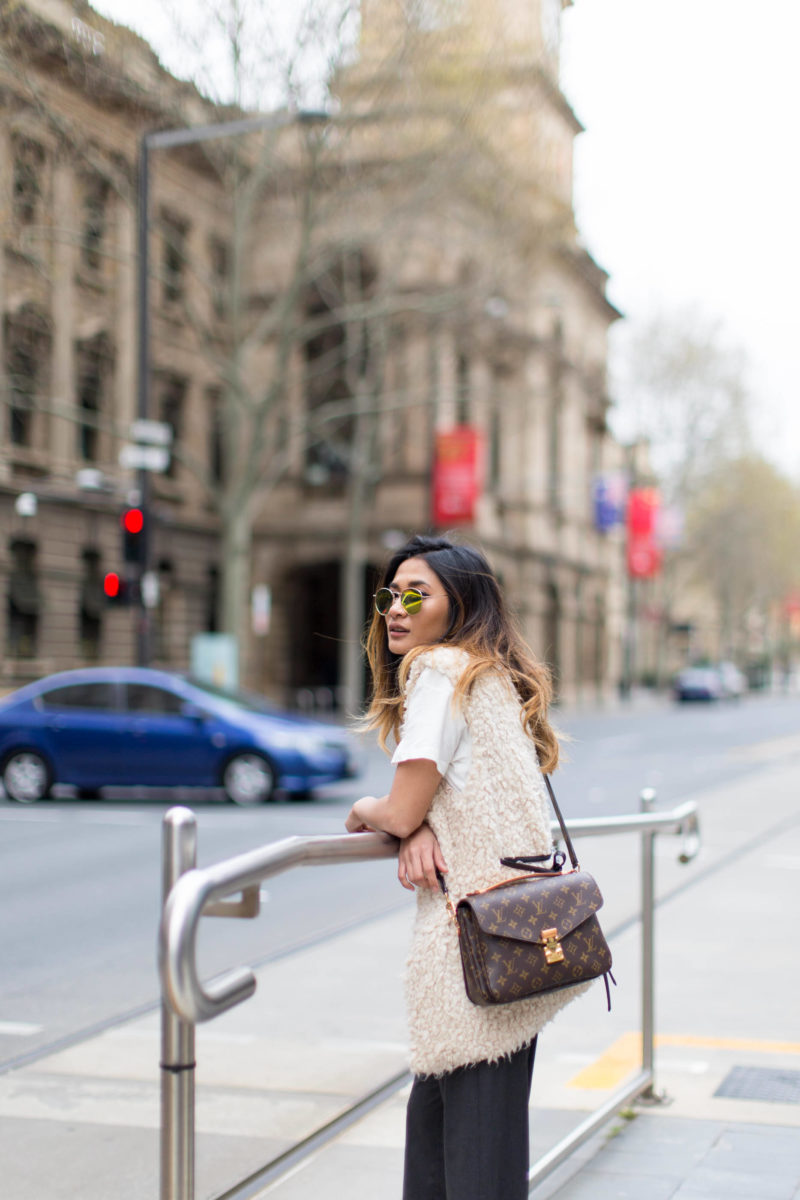 Outfit Details:
CREAM SHAGGY GILLET: H&M | TROUSER CULOTTES: TOPSHOP | T-SHIRT: COTTON ON | NUDE BLOCK STRAPPY SHOES: TARGET | GOLD REFLECTIVE SUNGLASSES: COTTON ON | BAG: LOUIS VUITTON POCHETTE METIS
SHOP SIMILAR: