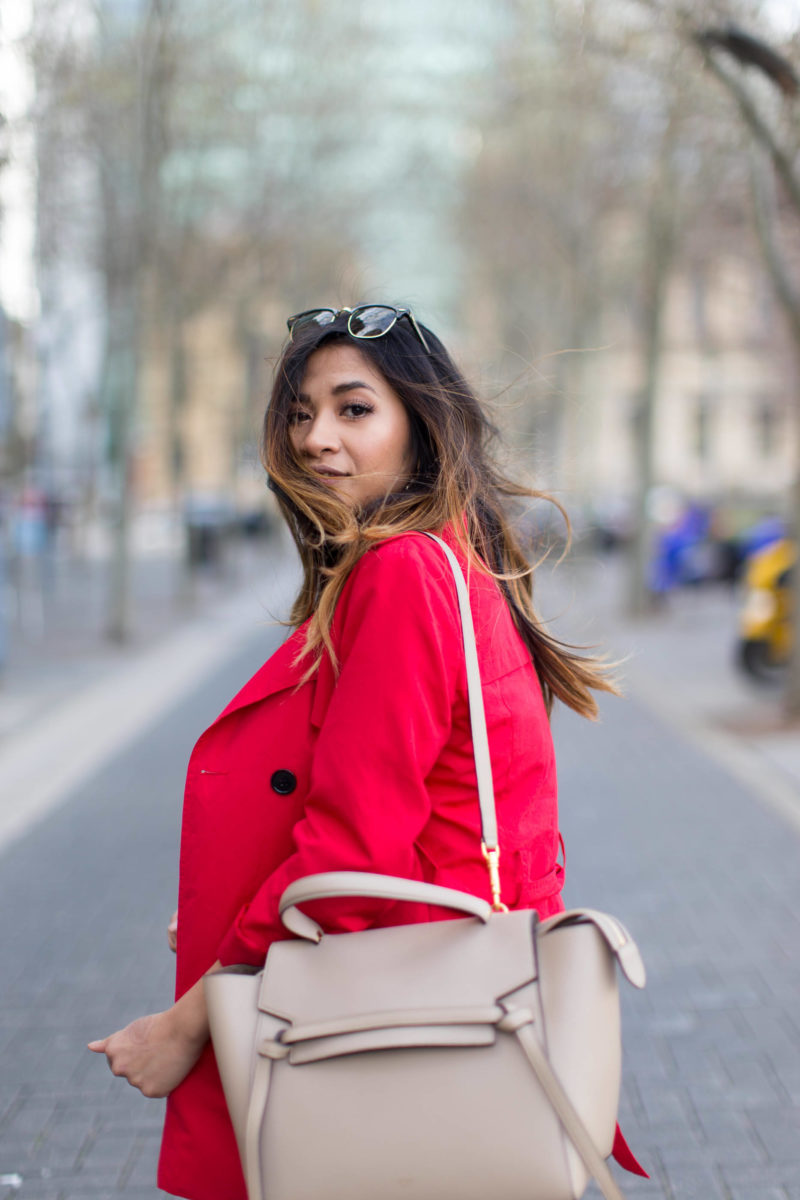 I've done it again guys. Say hello to my new-to-me Celine belt bag!
So this bag needs no introduction, but if you havent seen my youtube video yet, this gorgeous Celine Belt Bag is the latest addition to my handbag family!
Now I did already go into significant dept about this bag when I unboxed it on my youtube channel, but I cant tell you how excited I am to have this in my grubby little hands. I've honestly been obssessing about it for a few months now, and had initially contemplated between the Balenciaga and a black version of this. Luckily I decided on the Balenciaga because I was able to find this dune colour later down the line!
As I said in my video, I had first seen this last year when I was lusting very heavily for the Celine Trapeze. It had almost got to the point where I was going to purchase a brand new Celine Trapeze at David Jones in a tricolor (cobalt blue, white & black). I decided to pass in the end, but that was the first time I also saw the Celine Belt bag! I thought it looked okay but didnt even give it a second glance. Until I discovered Lizzy Hadfield and her gorgeous blog, and of course her minimalist style.
I kept seeing the Celine belt bag and boy, it grew on me very quickly and I was obsessed! Ever since I've been stalking that bag on online consignment stores because I do find that Celine unfortunately do not re-sell as well as other brands I'm usually a frequent buyer of.
I just love the lines, the structure, and shape and silhouette of this bag! I think its a great shoulder bag, and pairs so well with so many outfits! I'm stoked to have a lighter beige bag like this in my collection, because it's actually not something I have a lot of.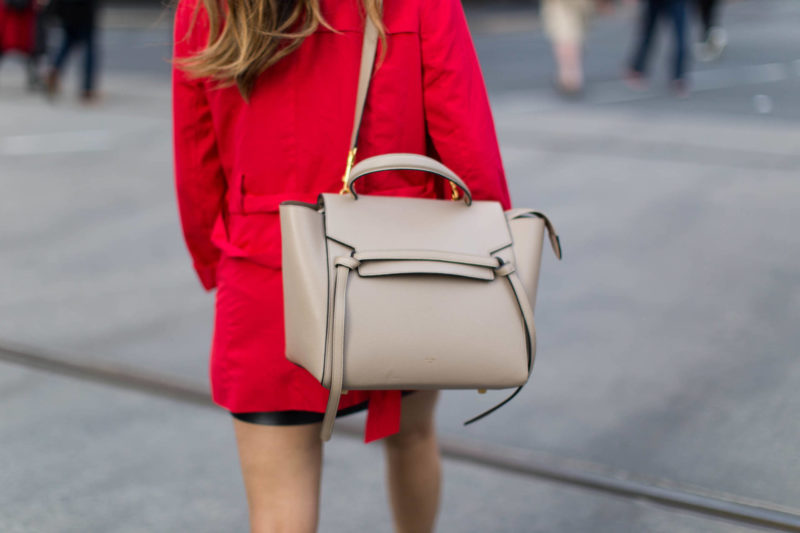 MINI BELT BAG IN DRUMMED CALFSKIN


REMOVABLE SHOULDER STRAP. CAN BE CARRIED ON THE SHOULDER. FLAP CLOSED BY A HIDDEN METALLIC PIECE, EITHER ABOVE THE BELT OR TUCKED UNDER IT. ZIPPER CLOSURE UNDER THE FLAP. REAR ZIPPER OUTER POCKET AND TWO FLAT POCKETS INSIDE. PROTECTIVE STUDS ON BASE.
27 X 23 X 16 CM (11 X 9 X 6 IN)
CALFSKIN AND SPLIT CALFSKIN LINING
1.700 EUR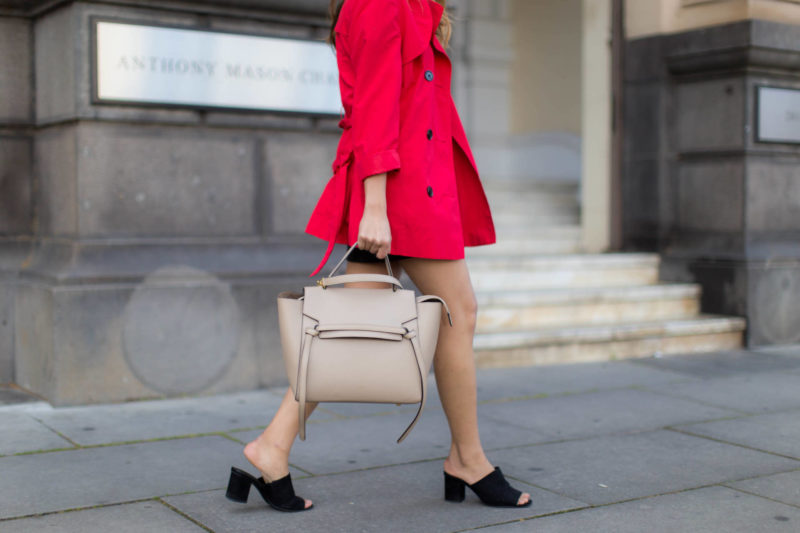 First Impression?
So believe it or not, I've actually had this bag for a few weeks now, and I have useeeeed this bag! I took it with me to Sydney and it was great! It was the perfect companion for a weekend getaway in the city. I felt so city-chic because this is honestly the vibes the bag gives. The sleek minimalist style makes it look so premium and high fashion. I absolutely love it! I'm also so so so glad I got it in the drummed leather because to me it look so much more premium and expensive than the grained skin. The only drawback with wearing this bag was actually the shoulder strap – I tend to carry a lot of things with me, and when I've got a DSRL + 2 lenses + water bottle + makeup bag — the bag ends up weighing a tonne! During these times I did worry sometimes when I wore it with the shoulder strap only that it would snap off and break! Luckily it didn't… but it did play on my mind a lot!
Now I'm sure you're curious about the closure? it wasn't that bad! Honestly, I knew about the closure coming into this purchase so I was prepared, but all I did was lift a leg up to help it close and it was fine! Definitely not as bad as I thought anyways!
So what do you guys think of my new handbag purchase?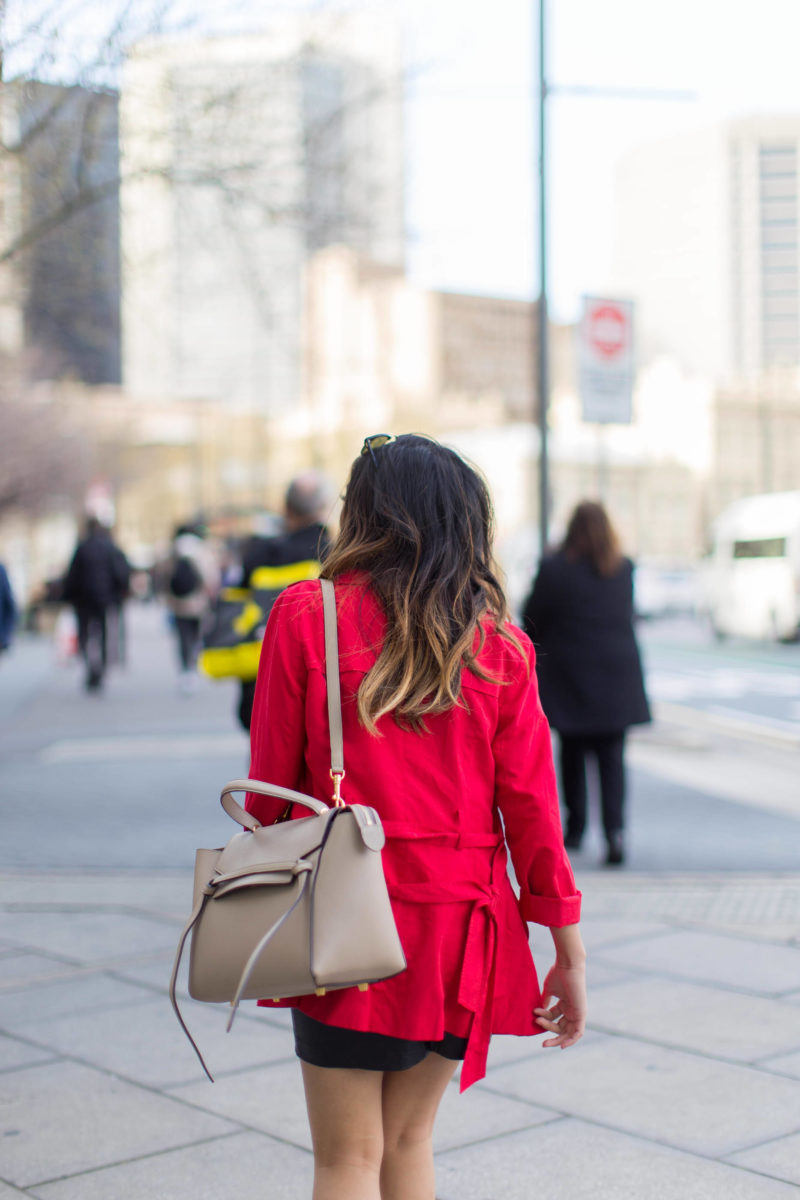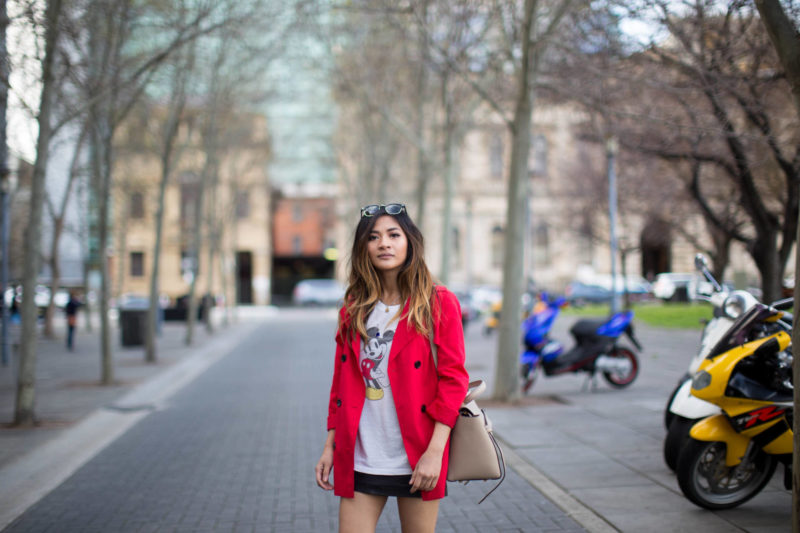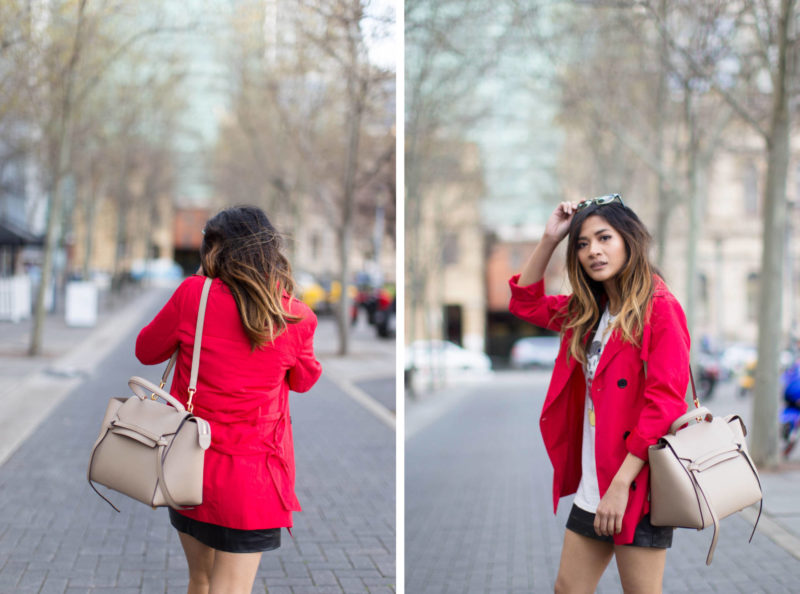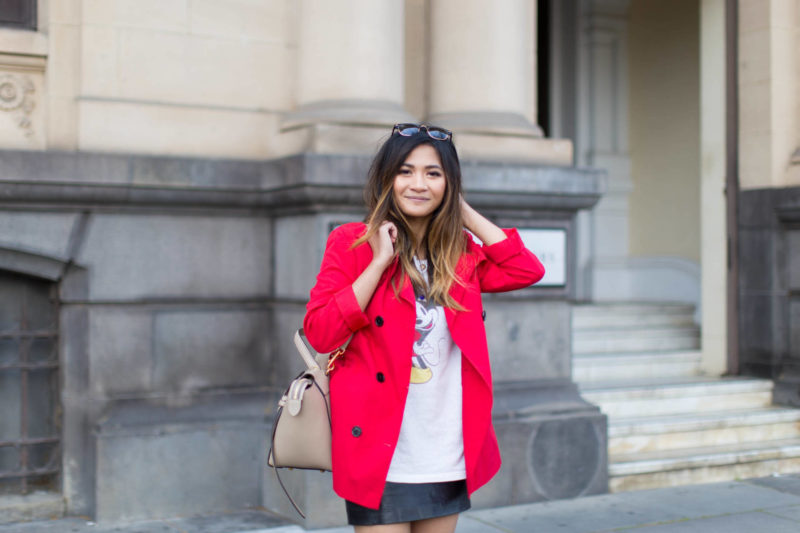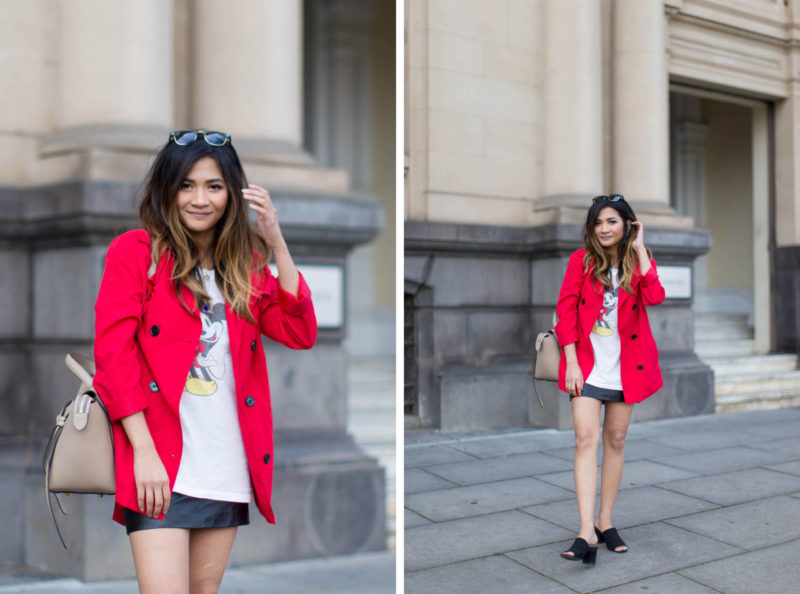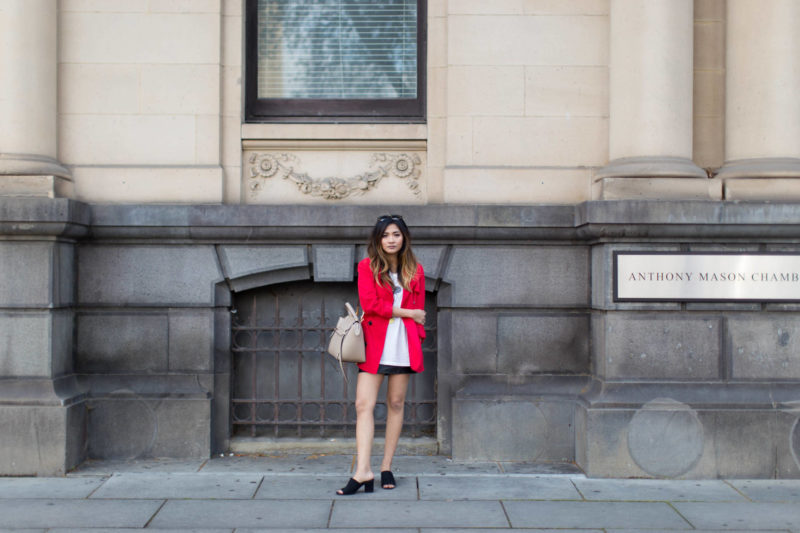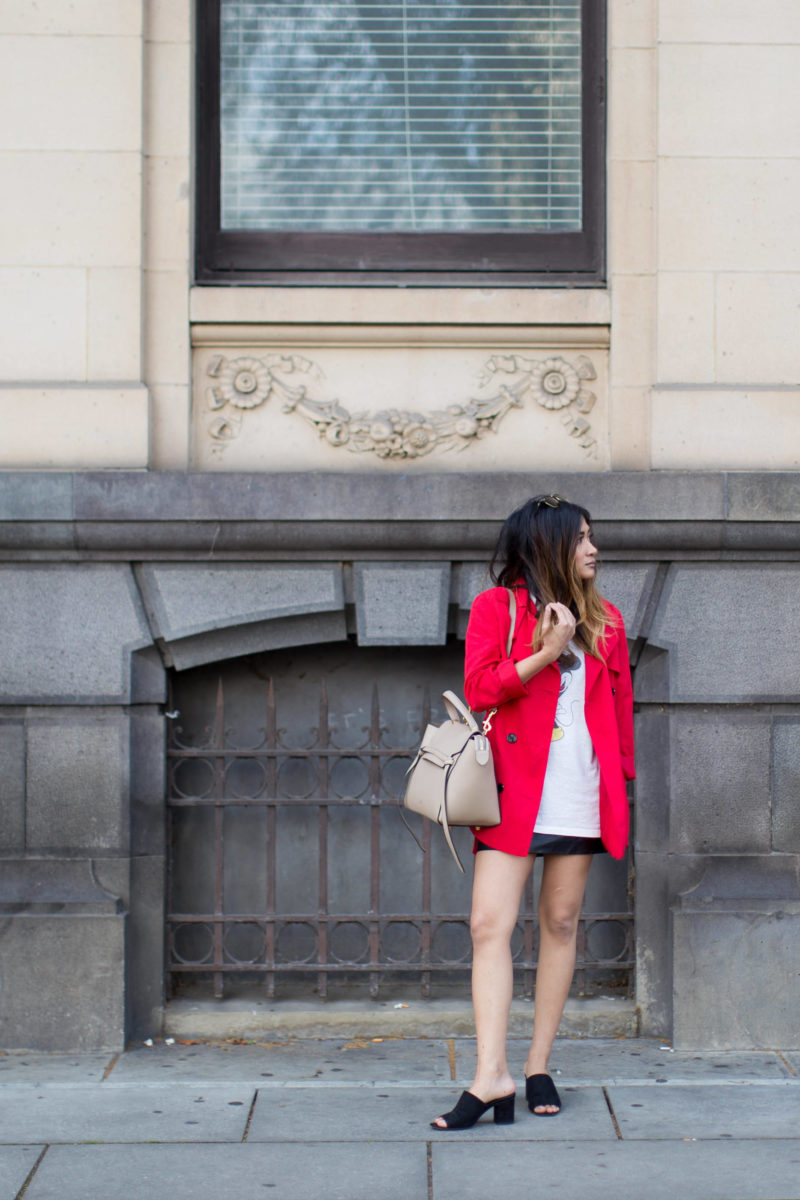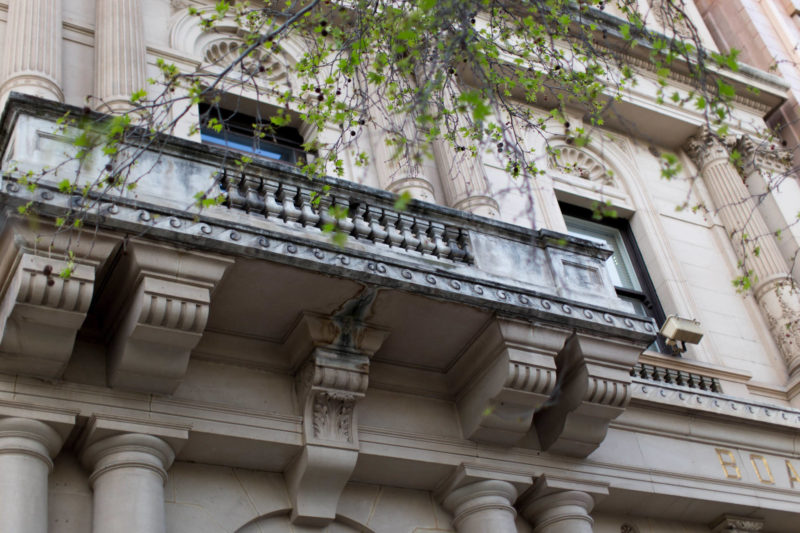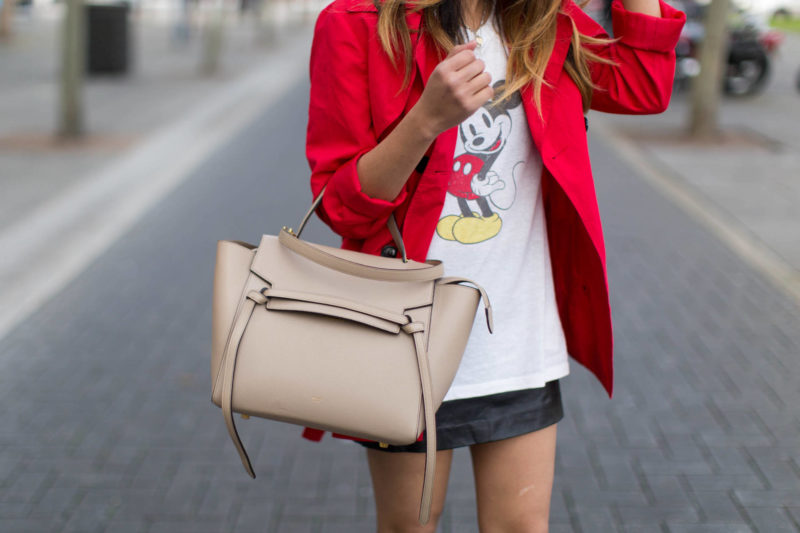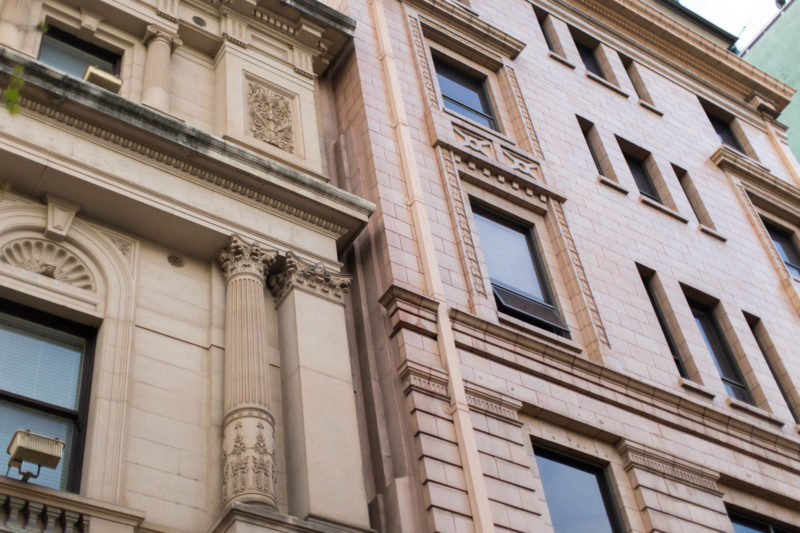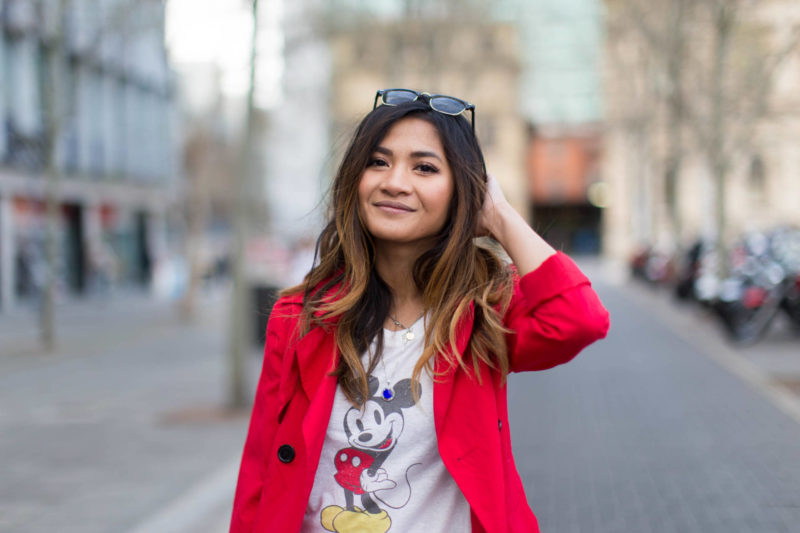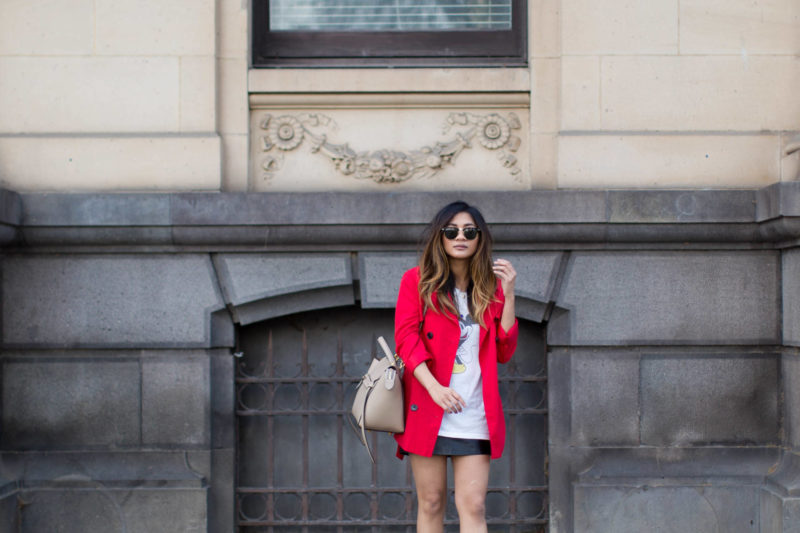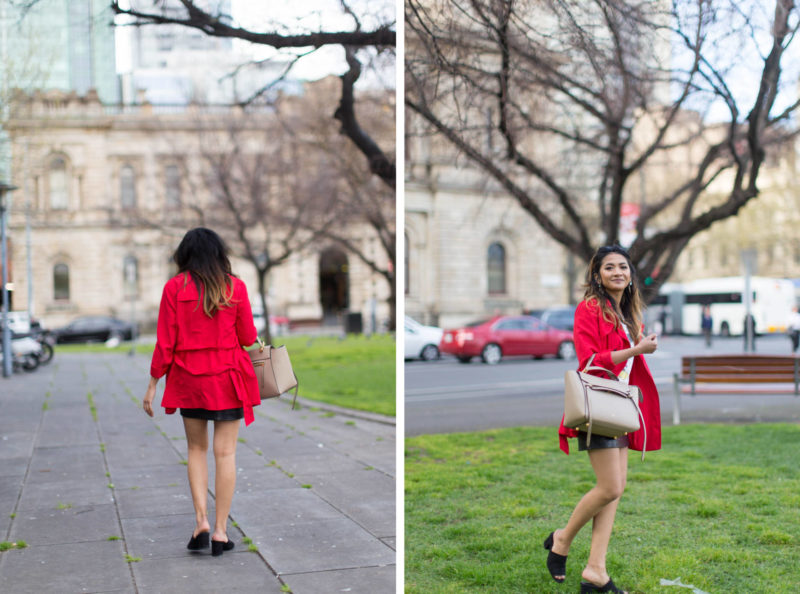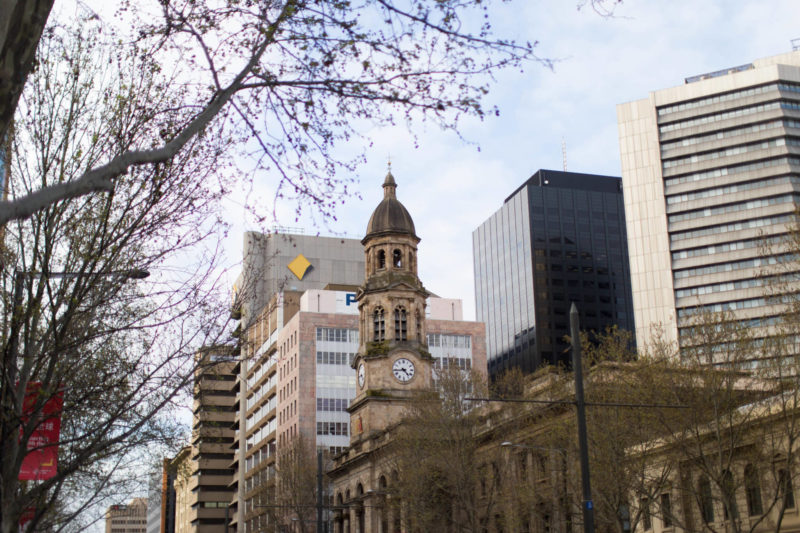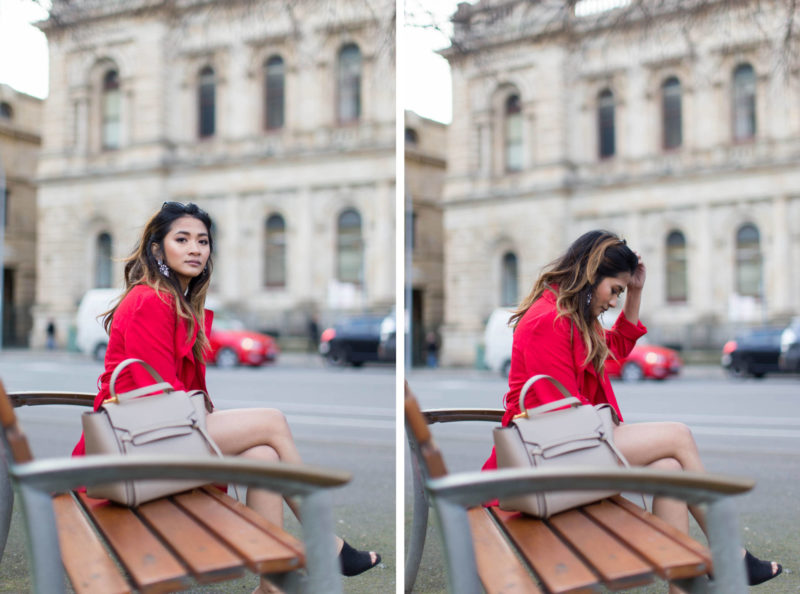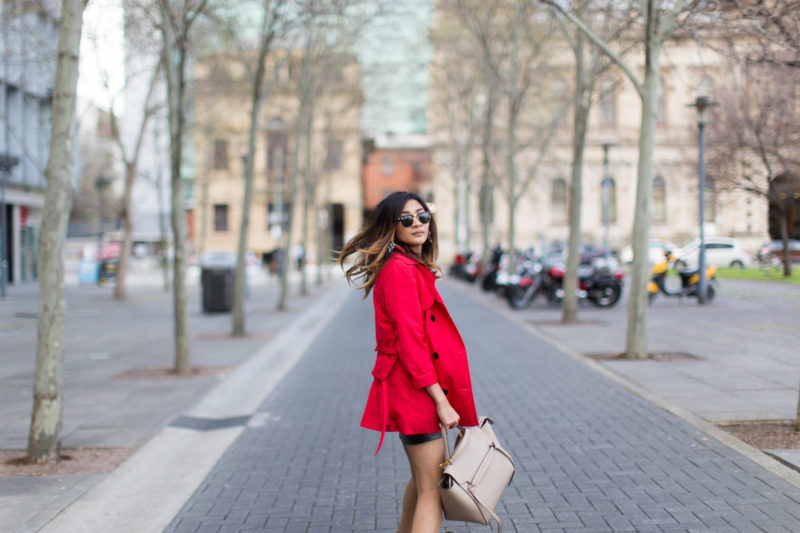 Outfit Details:
| RED TRENCH COAT: PRIMARK | FAUX LEATHER MINI SKIRT: COTTON ON | BLACK MULES: ZARA | DISNEY T-SHIRT: COTTON ON | SUNGLASSES: RAYBANS CLUBMASTERS | BAG: CELINE MINI BELT BAG |
SHOP SIMILAR:
Celine Handbag Unboxing