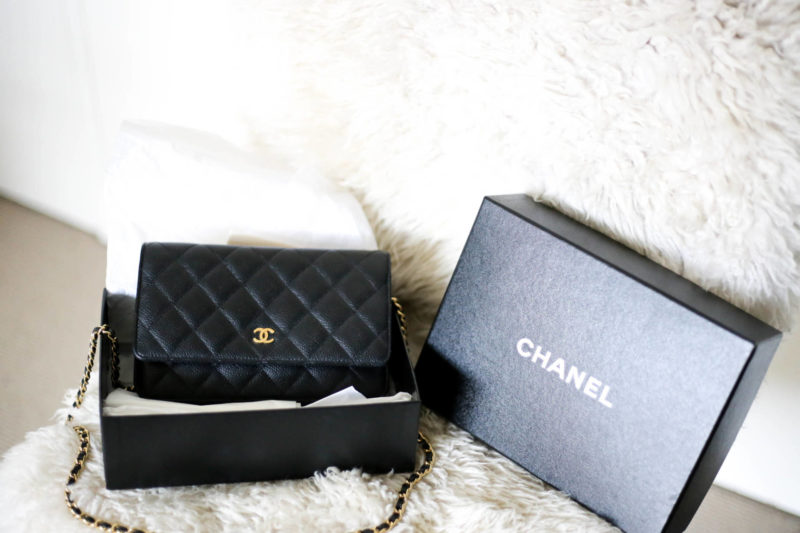 The addiction is real.
As a special blog-exclusive reveal, I wanted to share it with my fellow blog followers first the latest addition to my handbag family. I got myself the chanel classic WOC also known as wallet on chain. Isnt she gorgeous?? Believe it or not, this was another one of my amazing pre-loved/pre-owned scores! I did actually get it a while ago in July for my birthday! (I know, i know, what the heck. This is like the third bag I bought myself "for my birthday"…but I was in a spendy mood ok!! haha)
I have actually been eyeing this bag for a while as can been seen on my birthday wishlist, but I just could not ever pull the trigger considering that brand new this costs roughly $2800 AUD. Ouch! (Especially considering that it's technically a small leather good!) But everytime I saw it in videos or in pictures, I couldn't help but want it more and more.
Fast-forward a few months and I stumble upon this little number from a well-known Japanese consignment seller called Gallery Rare. It was in amazing condition and the timing couldn't have been more perfect as ebay had 10% off circulating at the time – I mean, its a no brainer!
So here she is! My NEW TO ME, Chanel Wallet on Chain in Black Caviar Leather and Gold hardware.

First impression?
I fricking love this thing. Having never tried it on before or even seen it in person, it was a bit of a risk purchasing online. Thankfully Japanese consignment stores have a pretty good return policy, so I felt pretty secure knowing if I changed my mind I could send it back. On first inspection, I was so suprised by how big it actually is! Everyone says it's so small, but I was actually able to stuff it with a tonne of items! I think that because my bag was made in 2014, the leather feels like it's softened a bit making it more malleable for extra things? Maybe? But I do admit, I like to overstuff my bag because I like that look more. Also because it's pre-owned, I'm not as fussed about wearing it out! The length was probably the biggest deterant for me (apart from price), but I figured that if I tie the strap with some leather cord I was actually able to shorten it! And honestly, it's a game changer and I love it so much! It definately feels different from the chanel square mini because the chain is more dainty, the shape is different, and I'm glad I got the gold because it adds the perfect amount of dainty glamour to any boring outfit!
I'm such a sucker for an amazing deal, because it feels like buying Chanel on sale. And who can say no to that? But yes, what can you do! All I know is, I'll have to sort myself out and get my blog sale started soon!

Outfit Details
TOP: ZARA | DUFFLE COAT: MISS SHOP VIA MYERS | JEANS: DIY | LOAFERS: WITTNER | BAG: CHANEL
SHOP SIMILAR
So what do you guys think? Do you own the Chanel WOC? How does it work for your lifestyle?